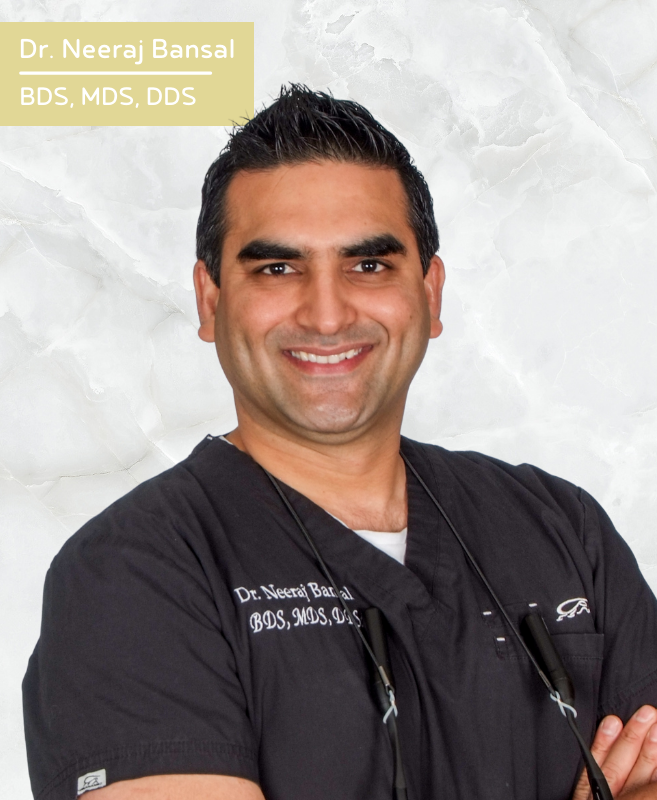 Dr. Bansal - Dentist
Dr. Neeraj Bansal received his BDS from Punjabi University (2000) and his MDS in Periodontics from SDM college of Dental Sciences. Dr. Bansal graduated with a Doctorate of Dental Surgery (DDS) from the prestigious institution UCSF School of Dentistry, San Francisco in 2013. He graduated with honours in clinical dentistry and endodontics. As a student there, he took elective courses in Implant dentistry.
Dr. Bansal has devoted his career to learning everything about and advancing, innovative dental techniques and materials. His combination of cutting-edge dental technology, along with his vast experience and his artistic eye, means that he can transform a smile painlessly. Dr. Bansal possesses a warm and friendly "chair-side" manner, and it is his innate warmth, patience and sincerity that make the difference in his care. His patients often comment that he is a "meticulous perfectionist" who offers the highest level of skill along with a friendly and optimistic personality. He will listen to your concerns and will address each of them in his treatment as he cares about patients through spending time with them and acting as a consultant or advisor for their dental health. He employs the latest equipment and techniques to provide a predictable and pain-free experience.
Dr. Bansal likes music, watching movies and playing tennis. He lives in Ottawa, Ontario with his beautiful dentist wife and their son.