Community Involvement
We love teeth, but teeth aren't too useful if you don't have anything to eat. That's why we decided to donate our "Jean Jar" funds ($488.45) to support the Arnprior & District Food Bank Inc.
We've included their information in case you find yourself in need, or have the means to help support them. For those who don't know, our staff set aside $2 weekly to wear jeans and we donate those funds to charity at the end of our year.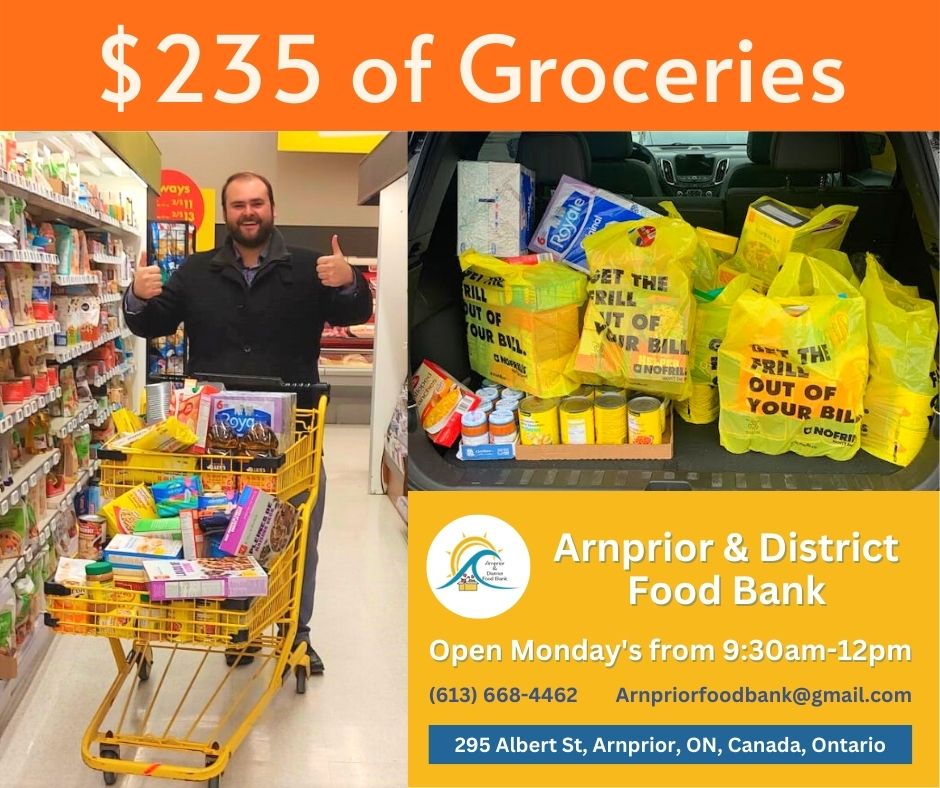 ---

---
Doctors Fight Against Hunger
Until December 19, 2019 we are running a food drive to help those in need this Holiday Season and we have a goal of reaching 500 items! If you help us reach our goal, we'll enter your name into getting the chance to win the 8ft tall Christmas Stocking pictured below! The more food you bring in, the better your chance of winning our draw for the World's Largest Christmas Stocking!
IT'S EASY TO ENTER!
1. Bring in a Non-Perishable Food Donation to our office before December 19th.
2. You'll receive ballots based on how many items of food you donate. The more you donate the better your chances of winning!
3. Place Your Ballot(s) in the Ballot Box and THAT'S IT!
Good luck, but most importantly - THANK YOU for helping those in need this Holiday Season!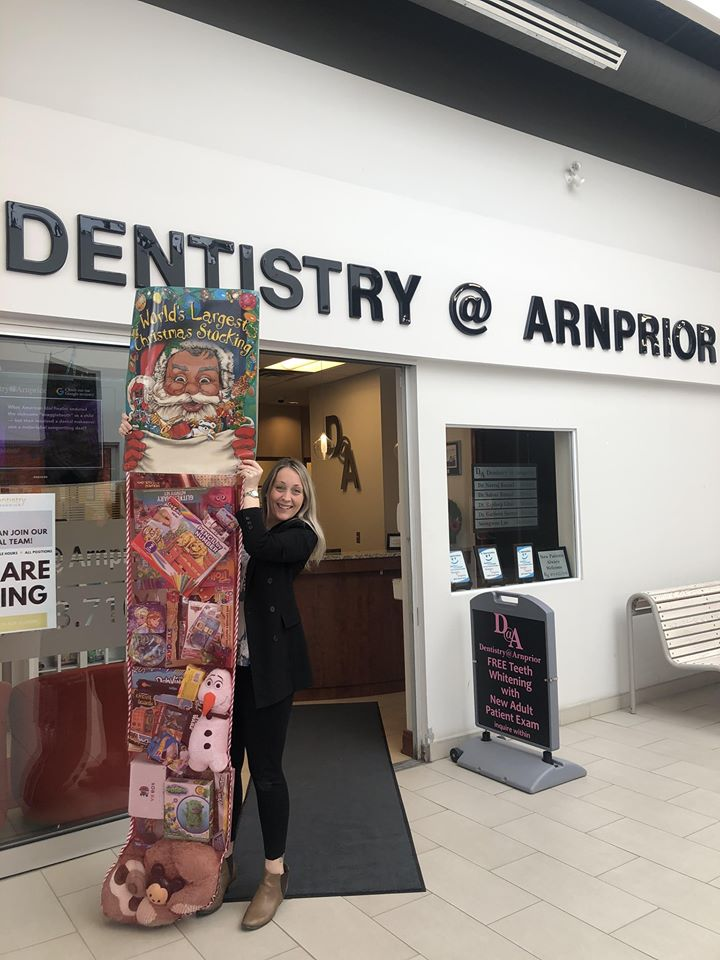 ---
A BIG thank you to everyone who came down to our free community appreciation bbq on August 23, 2019 to raise money for CPAN's Tools for School Program.
Because of all of the support from our amazing community and our volunteers, $260 was raised and was matched by Dr. Bansal for a grand total of $520.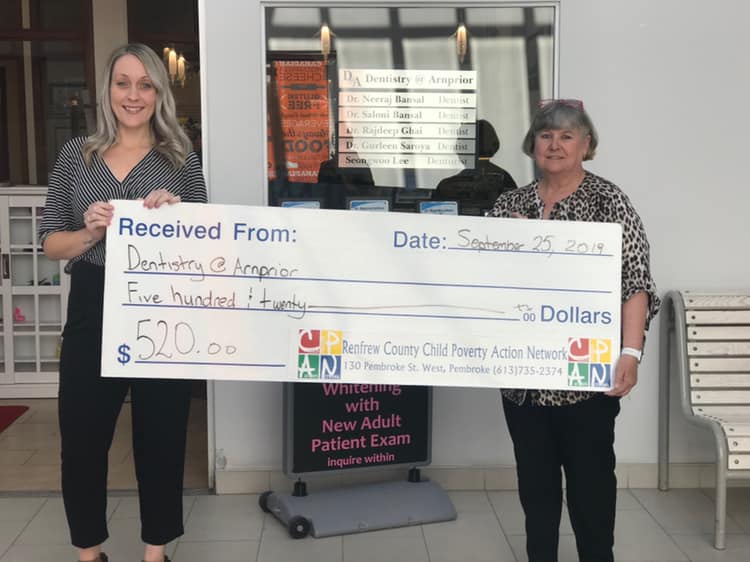 Pictured above is Ashley handing over the cheque to Lyn, the Executive Director of Renfrew County's Child Poverty Action Network.
---
Our 3rd Annual Dentistry From the Heart Event
As a practice who loves to give back to the community, we're thrilled to say that our 3rd Annual Dentistry From the Heart Event on June 22, 2019 was a complete success! Because of the help of our many volunteers, and contribution from all of our sponsors, we were able to see 43 patients and provide over $23,000 worth of dentistry for free.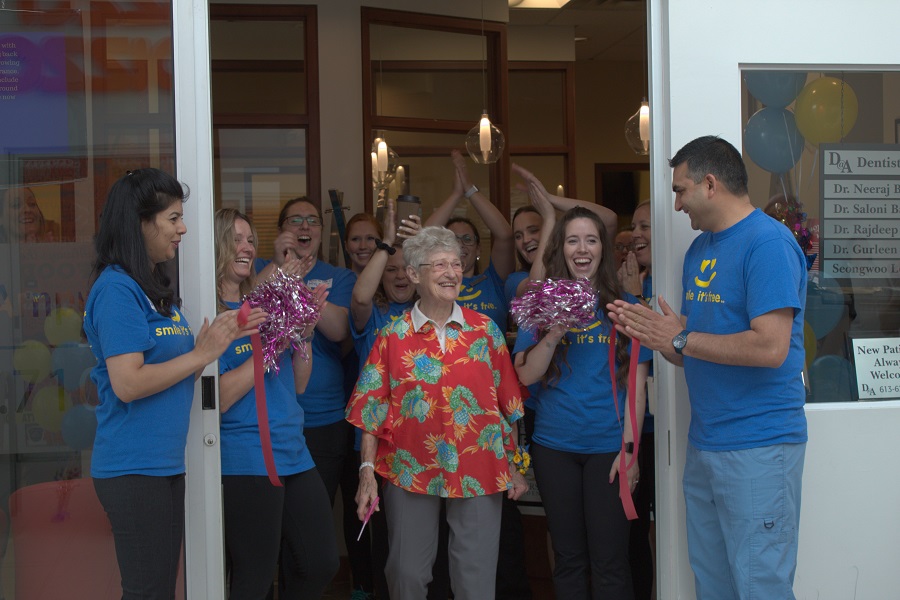 Pictured above, is Ingebord Moody, who did the honour of cutting the ribbon to start off our free day of dentistry.
---
Reader's Choice 2017
Here's your chance to give your favourite local businesses the spotlight!
Vote in the 2017 Reader's Choice contest to help us recognize the best of the best.
Just fill in your choice for the best business in each of the categories.
Contest closes 1:00 p.m. on Thursday, November 23rd, 2017.
Click here to fill out your choice online!
---
Annual Community BBQ
Our "Annual Community BBQ" on July 10 2017 (postponed from June 23) was a wonderful day; we had a free bbq for our community with donations accepted all going to our local ArnpriorBraesideMcNab Seniors at Home Program with Dentistry@Arnprior matching what was raised by this caring community. We are proud to say that $376.80 was given to the "Seniors at Home" Program.
---
The Valley Has Heart Golf Event - June 9,2017
Dr. Bansal & Dr. Saloni along with their professional caring team are Proud to support this wonderful event.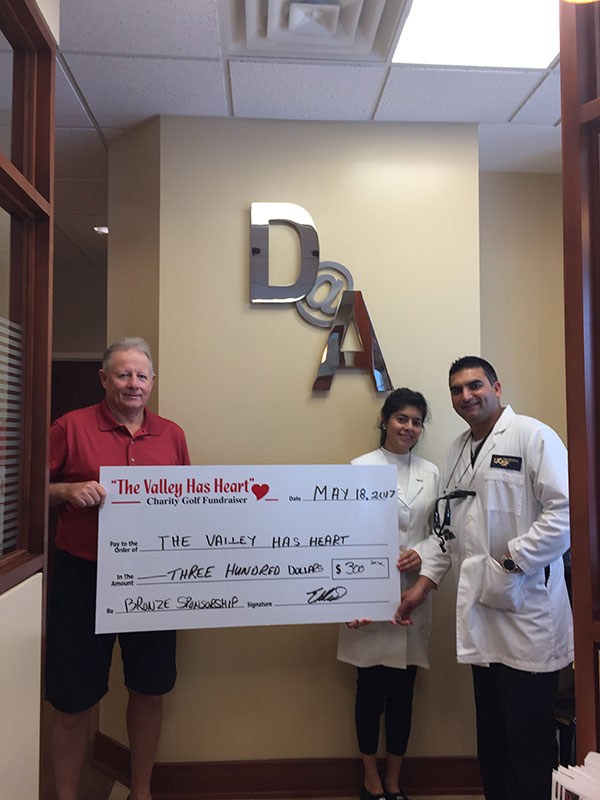 ---
Ottawa Valley Unlimited Horse
We are a Proud Sponsor of the "Ottawa Valley Unlimited Horse" for Youth, Novice, Intermediate and Non-Pro divisions.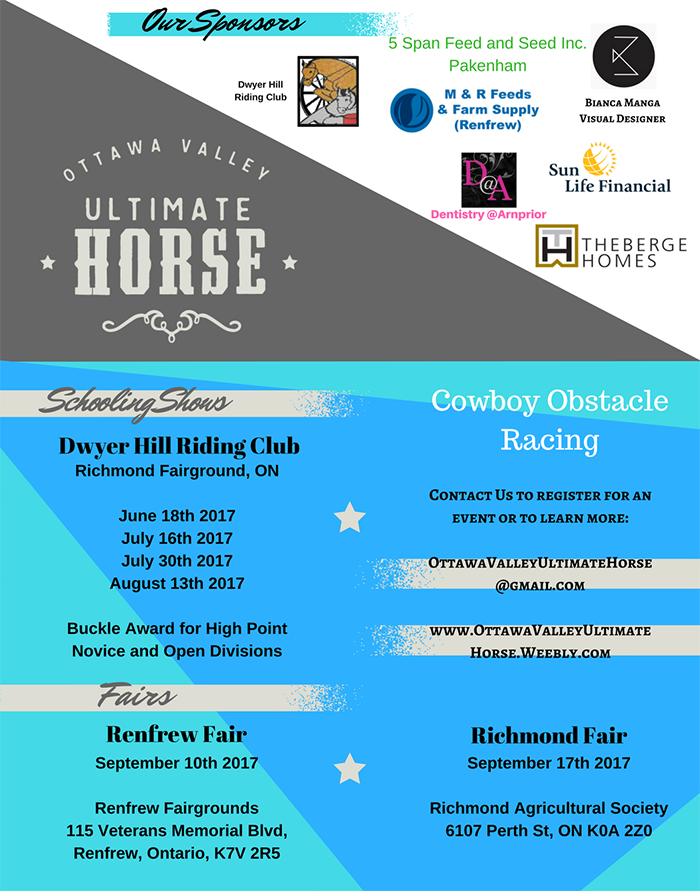 ---
Annual Community BBQ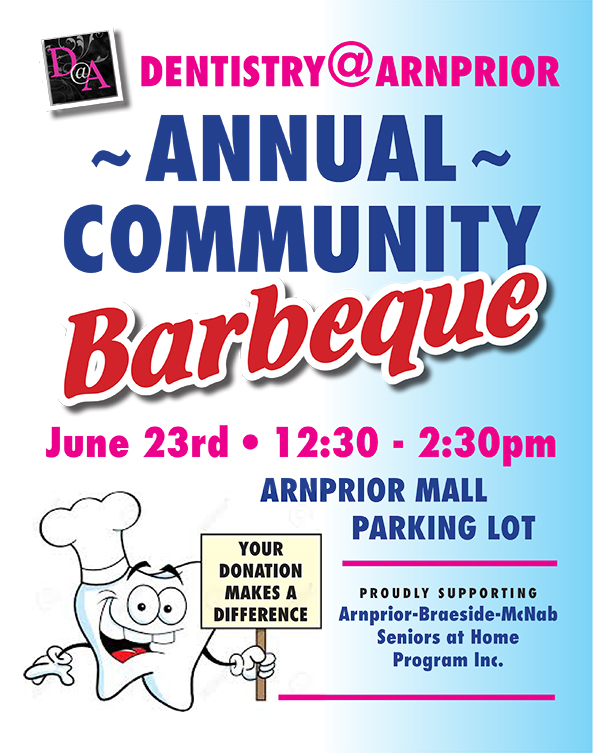 Printing sponsored by: H Brittle Printing Ltd - Arnprior
---
Health Matters Magazine
Read more on www.ovhealth.ca.
---
Dentistry From The Heart


Click here for more information about the FREE dental day we hosted on Saturday, April 22. It is called "Dentistry From The Heart".
---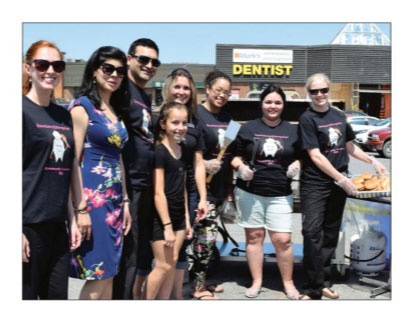 Hot dogs for dogs
All the crew at Dentistry @ Arnprior - including owner Dr. Neeraj Bansal, centre - have pets at home. So when they were mulling over a good cause for their annual barbecue lunch at the Arnprior Shopping Centre parking lot on June 24, they opted for the Arnprior and District Humane Society. Hot dogs, drinks and more were offered free. Donations were accepted for the local no-kill organization.
Read more on Inside Ottawa Valley.
---
Arnprior Regional Health
In November, Dentistry @ Arnprior pledged to donate $25 to Partners in Caring for each new patient exam. As a result of this campaign, our team presented a donation of $675.
Read more on the Partners in Caring Article.